Strata rebuilds Victorian railings and plinths for tRIIO
Strata were instructed to dismantle the whole corner of a solid boundary fence at a Victorian Park in Feltham. After the essential gas mains replacement had been carried out, National Grid needed full reinstatement of a large brick & concrete column, railings and concrete plinths surrounding a stream crossing.
Alex and Shane managed to safely form plinths to match existing profiles enabling the railings to be carefully lowered back in to place.
The brick column was then rebuilt using specially sourced replacement bricks to match the existing colour and texture.
The works were completed on time, within the notice period and the standard was excellent.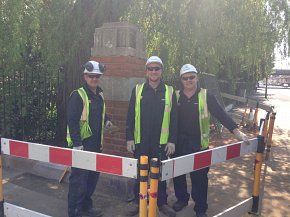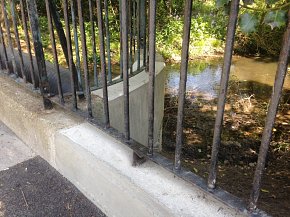 Fri 21 June 2013